Carin Lundhquist – singer/composer
I am a singer. I improvise, compose or arrange partly electronic music. I also write lyrics.
Carin on Soundcloud: soundcloud.com/calun
Music label: Compusic Records is a music label of mine and Magnus Frenning.
I like sounds. Sounds that make an impression. Text as sound, voice as sound, instrument as sound. As a music producer, I can create my own soundscapes. I write lyrics that mean something to me and hopefully to others.
Studies:
Stockholm University: Sociology, Musicology, Pedagogy, 1976-1987
Fylkingen/Birkagårdens folkhögskola: New Music, 1983-1984
Svenska Artist och Musikerskolan, 1977-1979
Song studies for Dorothy Dorow, Kerstin Ståhl, Majbritt Lannfjäll
Grant: STIM 1994
---
Current music groups:
Instant Circuit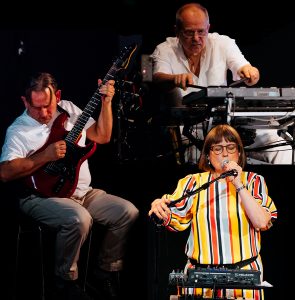 https://instantcircuit.se | Facebook | SoundCloud
Instant Circuit, a swedish trio making Electro-acoustic improvisations (vo/gu/dr) from Stockholm and Falerum, Sweden.
Carin Lundhquist: Voice and Electronics
Magnus Alexanderson: Electric and MIDI Guitar, Synthesizer and Electronics
Magnus Frenning: Electronic Percussion and Computer (algorithms and sounds for extended percussion) Read more about Magnus
Background
IC started as a duo in April 2009 by Magnus Alexanderson and Magnus Frenning to explore improvised electro-acoustic music (electric, sampled and electronically generated sounds). The duo performed together with the prominent reed/wind instrumentalist Geoff Leigh (UK) and the vocalist & perfomance artist Carin Lundhquist at Fylkingen in oct, 2009. In april 2010 Carin joined the group.

---
Grape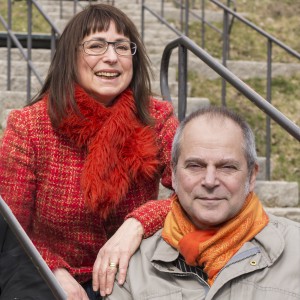 grapemusic.se | Facebook | Youtube | SoundCloud
Grape is duo based in Stockholm, Sweden. All songs by Carin Lundhquist.
Carin Lundhquist – voc, music production
Magnus Frenning – digi drums Read more about Magnus
(Hans Thunberg – guitar, was a member between 2008-2015)
Background
The couple Carin and Magnus started as a semi-laptop duo in 1997 with a few gigs and a webbcast. They were inspired by the club scene in England, especially drum & bass and triphop.
Grape was presented in the brasilian worldmusic radio station, Mosaico radio. They have been performing with several other artists but recently gone back being a duo.
Grape Live

Grape singles (feat. Hans Thunberg)
---
Earlier works and groups
Carin & In blanco
(pop) 1995

Cajlas
(Free-form impro) 1982-1983

First art sound work
Isvagga, 1980

---
Books
LARM
Carin is represented in the book "LARM From mouth cavity to laptop: sound of Nordic art"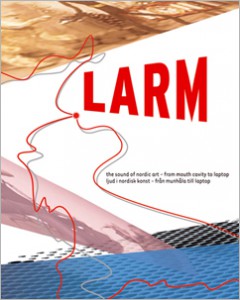 Read more about the project: Larm (http://www.larm-festival.se/)
Article about Carin here: http://larm.pbworks.com/w/page/14955836/Carin%20Lundhquist
"My fascination in vocal soundmaking was early realised in a tape composition for voice and percussion. It all started in 1979 when working with pianist Per Henrik Wallin. I met Joan la Barbara and then went to Amsterdam to study for Dorothy Dorow. In musicology I explored Extended vocal techniques as a crossover phenomena, from rock and jazz to contemporary music.
I participated in works by Thomas Jennefelt (Modern Museum, Sthlm) and Susanne Valentin (Music dramatic group, SR). In 1982 I started the free form duo Cajlas with Lasse Jonsson (perc) and performed at the Spräck festival, Sthlm.
After a long break I co-produced/performed with the cabaret group Franska kort before writing music again, this time with computer aid. I recorded the demo Månstråle which gave me a large STIM grant. I then produced the record Carin & Inblanco which was played at SR, 1996. In 1997 I started the group Grape, a duo with Magnus Frenning, drummer and composer of electro acoustic music.
In Grape I develop my own blend of choir and odd instruments. With aid of Magnus Frenning, who develops my rythmical ideas, the songs are framed within a suggestive groove. In 2005 we started performing live again after a break."
---
it all began…
"I grew up at a farm with lots of noices to influence me. Machines, animals and nature. I used to improvise to the beat of a water pump or sing loudly from the tractor. When I was eight I started in the village churchchoir and went performing with my two sisters. At ten I continued with guitar, singing swedish foksongs and american folk/protestsongs. I joined a theatre group at highschool, made music with them and picked up latinamerican folksongs. After that I moved to Stockholm to attend art school. A friend played Flora Purim to me and I became a great fan of jazzimpro. To be sure I didn't miss out anything I also went to theater school, music school and studied Musicology, Sociology and Pedagogic. Went touring as a bass player, as an actor, as a singer. Bits of this and that. After my sisters child died in cancer I started writing my own songs again. That led to demos and a scholarship, which led to an ep (Carin & In blanco) which was picked up by swedish radio."
© 2017 Carin Lundhquist Frenning